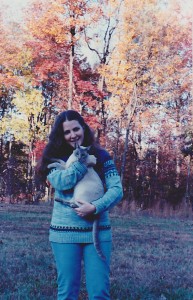 I began writing poetry at age 9 and amassed quite a volume by the time I entered my teens. From early childhood on, I sang aloud to the trees, the rocks, the water in the brook behind our house, and the Earth herself. I carried on conversations with the wondrous kindred of Earth. Together the Nature Spirits and I envisioned worlds of imagination and created a haven of peace and serenity. In those moments alone with Nature, I knew my greatest childhood joy, and I could see the world as it was meant to be: a place where love reigned and everything was beautiful. I never stopped envisioning that world.
There is no better place to me in all the world than the forest. I grew up on several acres covered with trees. Massive oaks shaded our back yard, and the front yard was filled with trees to such an extent that it was difficult to see our house from the road. Yet, the magic really happened far back behind the house, where my siblings and I— together with our menagerie of animal companions—explored the pathways through the woods.
To this day I find the need to spend time walking the forest trails and breathing among the trees. My inner child comes to life whenever I take the time to wander those woodland paths.
My writing background includes a B. A. degree in English, specialization in writing, from East Carolina University in 1980. I later went through the graduate school at UNCG for teaching certification. For years thereafter, I continued to take classes in writing just for the fun of it. I remember fondly my greatest teachers: Terry Davis, author of Vision Quest (made into a film), Mysterious Ways and If Rock and Roll Were a Machine, John W. Warren, ultra-strict journalism professor at ECU, and Orson Scott Card, award-winning author of Ender's Game, Speaker for the Dead, Xenocide and many more.
After spending a few years teaching English, I used my talents by working as a graphic designer and copywriter. Yet, my love for writing fiction and poetry never waned. Although my life centers around energy healing work now, which also feeds my soul, I continue to write the occasional verse or story when I feel the longing to express my inner truths or depict through words the magical world around me.
In Grandfather Poplar, I hope to be a voice for the trees and the world of nature that I love so dearly. This book truly flows from my heart. I hope it will touch the hearts of others and awaken the inner child that knows that the forest holds the keys to tomorrow, that in such pure places we can find ourselves and breathe freely of LIFE.