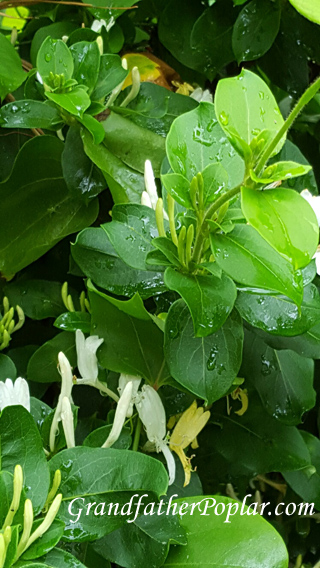 Even on a rainy day, it's easy to find beauty in nature. Sitting outside for a while under these rain-laden skies, the honeysuckle reminded me of so often awakening to their scent in the springs and summers of my childhood and adolescence. I hope you enjoy my "Ode to Honeysuckle."
Still glistening from spring rains,
Your scent a sweet refrain
That beckons my soul to dream
Of dewdrops and sunbeams.
Your fragrance fills my senses,
Seeps past my defenses,
An echo from long ago
Of summer morning's glow—
Asleep with open windows
In a peaceful repose
Till lingering yellow rays
Wakened me to the day.
© 2016 L. D. Henderson
GrandfatherPoplar.com
Grandfather Poplar, the novel, is available as an e-book on Amazon.com; here's the link: http://bit.ly/GrandfatherP.