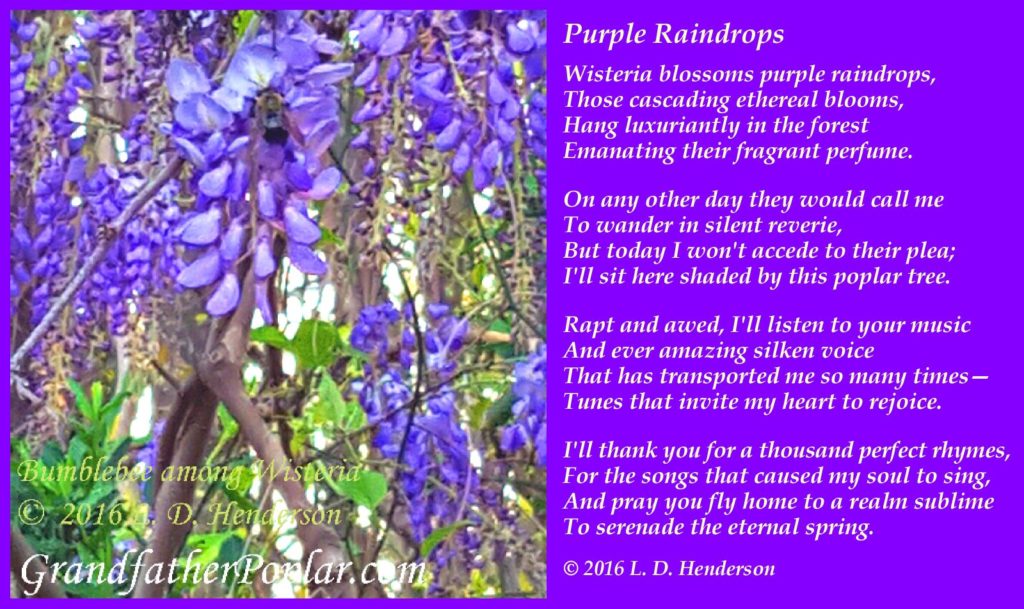 When I took this photo of the wisteria hanging in the woods, I thought they looked rather like violet raindrops. I knew that I would write a poem to accompany them at some point. I only wish it hadn't been prompted by the occasion of the death of a musical genius and beautiful soul that I have long admired. I have been a fan of Prince since the early 1980s and will continue to treasure his brilliant music  for all my days. This one is for him and for all who loved him….
Purple Raindrops
Wisteria blossoms purple raindrops—
Those cascading ethereal blooms
Hang luxuriantly in the forest
Emanating their fragrant perfume.
On any other day they would call me
To wander in silent reverie,
But today I won't accede to their plea;
I'll sit here shaded by this poplar tree.
Rapt and awed, I'll listen to your music
And ever amazing silken voice
That has transported me so many times—
Tunes that invite my heart to rejoice.
I'll thank you for a thousand perfect rhymes,
For the songs that caused my soul to sing,
And pray you fly home to a realm sublime
To serenade the eternal spring.
© 2016 L. D. Henderson