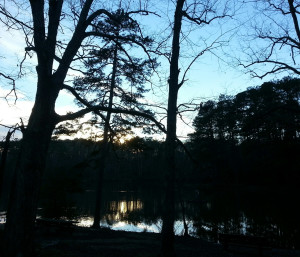 Silhouetted against the last silken stream of sunlit sky,
You stand quietly absorbing those final rays
As stillness overtakes your inner senses
In the prelude to the hush of nightfall.
A golden glimmer reflecting on seamless water
Entreats you to call back the sunlight
So that once again it might melt into your branches
And remind you of the far-off spring
When your heart's blood begins to rise anew
In the time of the greening.
So you cry out to the setting sun lowering its head
Behind your brothers across the lake,
"Linger just a while with me,
And let the shine of your gold lift me
Once again skyward."
But swiftly the peace settles into your psyche
And the comfort of the sweet Earth beckons you inward
Into the dreamless sleep of trees.