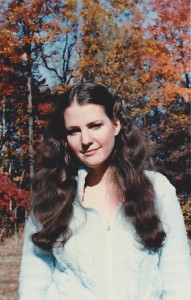 Autumn has been my favorite season for as long as I can remember. I wrote this light-hearted poem about autumn many years ago. I hope you enjoy it!
When the garden spider weaves its silken strands
And Jack Frost's icy fingers touch leaf and land,
I dance in upon the breath of the North Wind,
And on all of Nature's creatures I descend
Offering the gifts that only Autumn brings —
Fairer by far than all the rites of Spring.
No longer the days of toil and sowing seeds
But time to harvest the fruits of all these deeds.
The heat of summer gives way to gentler days
And crisp nights beneath a sparkling Milky Way.
A time for romance under the harvest moon,
To listen, to dance once more to Nature's tune.
And each sunrise brings a world of brightest hues,
A landscape of brilliant colors to peruse,
A dreamlike scene caressed by gossamer threads,
A kiss of frost like dewdrops on spiders' webs.
Just around the corner, winter lies in wait,
But woo me well and this year it may be late!
©  1997 L. D. Henderson