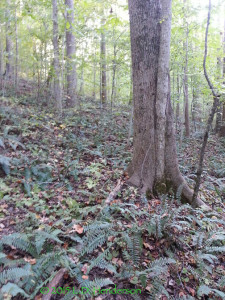 In college, I majored in English, specialization in writing. Any liberal arts major has probably heard the often asked question, "How are you going to make a living with a degree like that?"
Long story short, I left my dreams behind and followed one path after another—a reporter, an English teacher, a copywriter/graphic designer/editor, finally a healing arts practitioner—another integral part of my spirit's calling. Still, the inner life, the need to weave a tale, never left me, and the world of nature always nurtured me and the storyteller within.
Every so often through the years, I'd take a writing workshop or join a writer's group in hopes of making something of this long-held dream. I originally wrote Grandfather Poplar as a short story in 1989 in the second workshop I took from Hugo and Nebula Award winning Novelist Orson Scott Card. Great feedback in the workshop led to the realization that this needed to be more than a short story. I'll always be grateful for the insight and flowering that came from that class.
Now my Right Brain/Left Brain war, which drug out into the 90s and even the new millennium, has ended for the most part. Thanks to the balance that comes with being a healing arts practitioner, both sides won! My creative mind has learned to roar and dance and flourish no matter the obstacles, and my logical brain still holds me in good stead by helping me do the practical work that goes along with getting the message to the world. Mind you, I still may encounter the occasional skirmish when Left Brain decides to blast its cannons, but now at last Right Brain has a force field made of creative power and love to dissolve any salvo that doesn't resonate with truth.